We're making a splash in the digital realm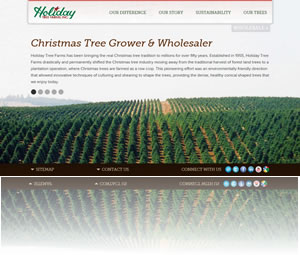 Welcome to the first edition of our digital communications.
We are excited about several things that are happening at Holiday Tree Farms and with harvest ramping up, we wanted to kick things off with an update.
We have just launched our new website! If you like, you can take a moment right now to check it out.
http://www.holidaytreefarm.com
New request for pricing form
We've updated our request for pricing form online to more effectively gather information and get your pricing proposal faster. Of course, you can always call (541) 753-3236 or toll free at (800) 289-3684. Get pricing now »
About this eCommunication
This eCommunication will be sent 4 to 6 times per year and will keep you informed regarding what's happening around here, around the industry AND keep you in the loop about upcoming events, sales and specials.
Feel free to tell your friends about this newsletter and connect with us in other social circles—we have social media icons below that will take you where we are!